Virtual Classrooms
When Screen Sharing
Isn't Enough...
Newrow Smart online virtual classrooms are purpose built for online instruction – helping remote instructors, facilitators, and teachers engage their students effectively online. Keep everyone focused and engaged in with high quality, real time audio and video, an easy-to-use interface, and a suite of collaborative tools that helps you transform distracted viewers into active learners.
Connect With Your Learners
Click a link to join right in the browser. Simple, elegant design makes getting started a breeze.
Collaborative tools to enhance engagement beyond just video conferencing.
Hassle free online virtual classrooms that just works allowing you to grow your online programs.
Dynamic Views That Holds Their Attention
Play with a range of views that encourages remote learners to actively participate in your online virtual classroom. Start off with video conference view where everyone can see and talk with one another. It's a fun way to get everyone in the class to join the discussion. You can set yourself as the presenter to take a more prominent position in the class. This is a great way to bring everyone into learning mode and present the agenda. When you're ready to start, play a slide deck or an uploaded video from the playlist, the course content takes center stage and you show as a floating webcam over the content.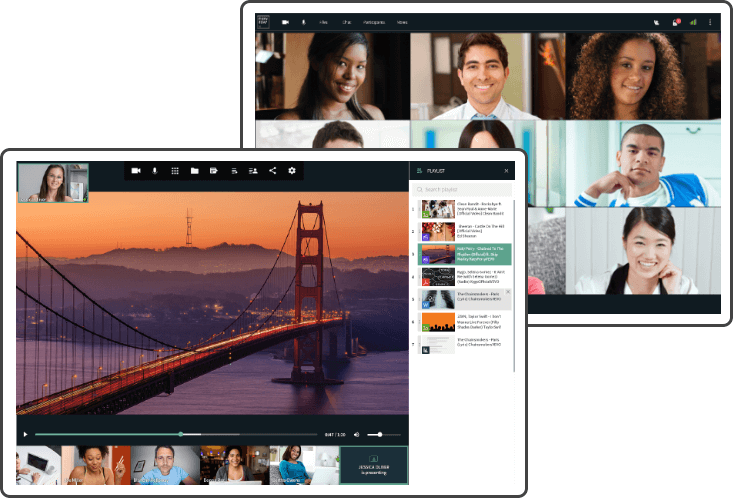 All The Features You Need
Powerful, easy to use features that drive learner success through an engaging online virtual classroom with up to 25 live webcam participants and hundreds participating through text chat.
Draw and write together on a digital whiteboard in your online virtual classroom. Perfect for team brainstorming sessions, group activities and STEM courses.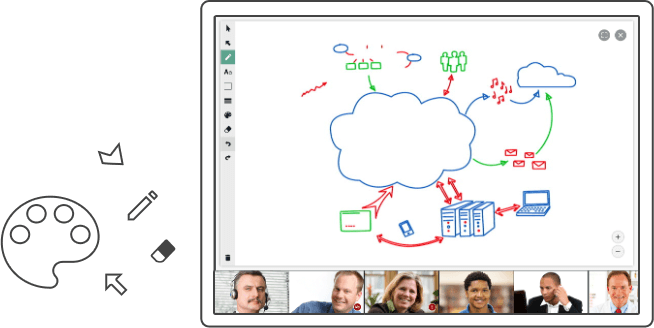 Record & archive your online classes. Newrow recording is all in the cloud so your completed recordings are available in minutes and can be shared in your online courses for students to view on demand.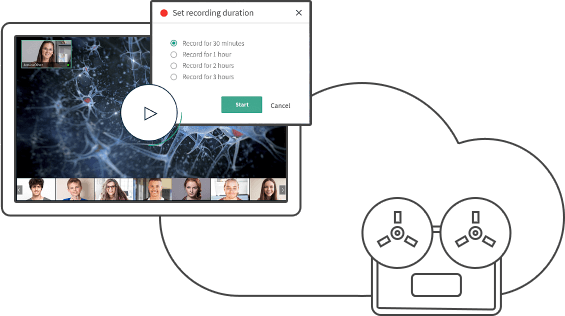 HD screen share helps your students follow along in your online virtual classroom. Show your learners how to use new tools and software while answering their questions in real time with screen sharing.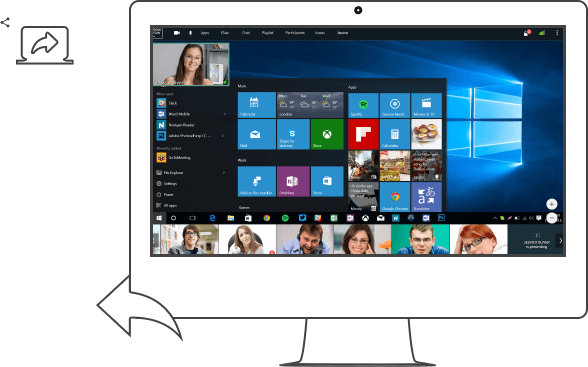 Encourage students to work together on group projects with breakout rooms. Drag & drop students to specific breakout rooms to give them a space to work together.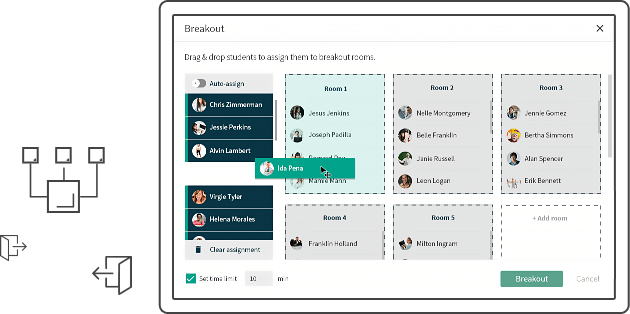 Real time notes lets learners follow along as you type important notes or action items. You no longer need to copy & paste notes to share them after class. Notes are immediately available for students to download.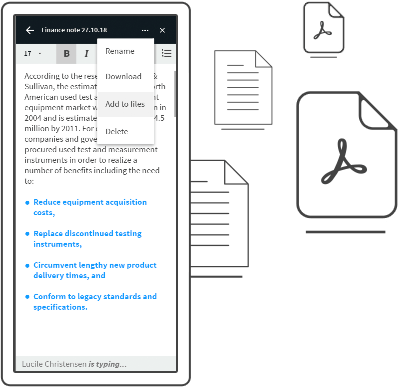 Measure understanding in real time with live quizzes. Live quizzes are a great way to engage your learners in your online virtual classroom. Use quizzes to log proof of presence and focus as well as for real time assessment.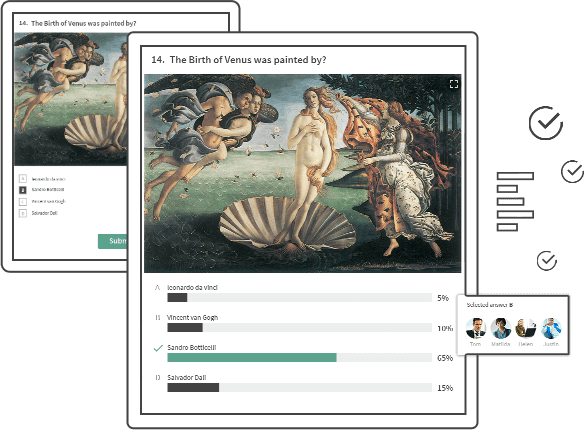 Search for and play YouTube videos to watch with everyone in the class in real time. Playing topic relevant YouTube videos in your classes is a great way to capture attention.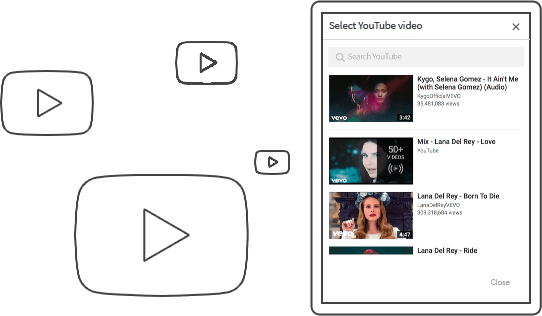 Upload and manage course content like presentations, PDF's, documents, videos and more from a central place. Play uploaded files – including presentations and high quality videos – for students to follow along in real time.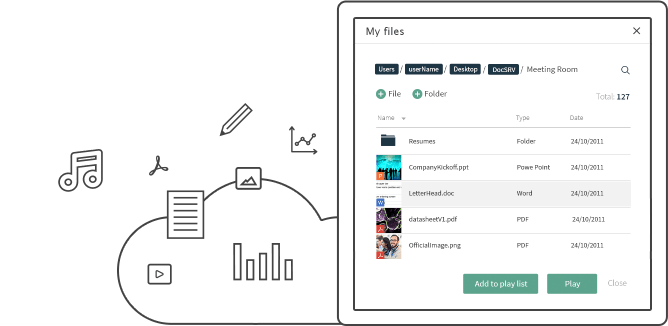 An Online Virtual Classroom That

Plays Nice With Your LMS
Newrow Smart supports LTI specifications and seamlessly integrates into any LMS for a single sign-on experience. With the Newrow Smart LTI integration, students and instructors access their courses directly from your LMS without requiring additional sign ins or downloading 3rd party software. LMS Admins can add Newrow Live LTI to each course in the LMS to provide dynamic online virtual classrooms directly within the LMS or Newrow On Demand LTI to enable instructors to share class recordings or deliver structured self paced courses for on demand learning.

Enjoy online webinar software that doesn't limit you or your participants. You can start today!
Newrow's online virtual classroom solution provides easy-to-use virtual classrooms purposely built for online instruction. With a click of a link, instructors and learners alike can engage one another as if being in the same room. Learners and instructors do not need to download anything to fully participate. Newrow Smart virtual classrooms are 100% browser based making getting started an absolute breeze. Newrow Smart virtual classrooms are fully brandable to highlight your organization's branding as you engage your learners through interactive tools like a digital whiteboard, screen sharing, breakout rooms, real time notes, live quizzes and a whole lot more. Newrow meets students where they are by providing an optimized experience for those joining via their smartphone or tablet without the need to install another app on their device.