It's that time of year where your employees are asked to take on new projects and challenges.  Your company is beginning to set a large amount of time aside to conduct specific training sessions, pulling employees from their daily tasks at hand and asking them to potentially take on new roles.  The idea of additional responsibilities is already daunting, and may be made especially more difficult to process if the training sessions themselves are tedious and exhausting to the employees.
Well I am here to tell you it does not have to be that way when carrying out your workplace trainings online.  Conducting online workplace training sessions in a dynamic fashion will not only make the experience a much more productive and positive one for employees, but it will give them the necessary momentum to launch new projects and complete them in an exemplary way.
Here are a few tips not only to motivate employees to attend training sessions with a more positive attitude, but to help them reach better end results as well.
If you are conducting a live online seminar, simply playing slides or reading from a powerpoint presentation can be extremely boring for your employees.  If you are conducting online workplace training, why not add some multimedia elements like images or video?  Video is easy to consume, facilitates storytelling, reinforces learning and can be accessed from anywhere.  People tend to process more by seeing rather than simply reading text so be sure to add video to any training session.
In a similar vein, it may be worthwhile to use an online virtual learning platform that hosts a suite of collaborative tools that helps you transform distracted viewers into active learners.  One tool that will make any training session more engaging is an interactive, digital whiteboard.  You as the trainer or your employees can sketch out ideas during brainstorming sessions or simply work on the same board at the same time to make the collaboration process smoother.
Incorporate Interactive Activities
No matter how interesting you feel the presentation you crafted for your employees may be, you will lose their interest quickly if you fail to incorporate interactive activities.  In the realm of eLearning, it is vital to have a breakout tool that places employees into smaller groups and allow them to collaborate.  These smaller groups of participants can carry out simulations and role play then engage one another through tools like video and text chat, file sharing, screen sharing, and whiteboard.
To keep them focused, you might decide to get their competitive juices flowing, assigning game-like activities to complete in a limited time frame.  This will help inject energy into the training session, keep the breakout groups focused, and build employee chemistry. Offering an incentive to outperform your colleagues and win might help considerably in getting the participants on board.
Another way to break up a training session, assess employee comprehension as well as gauge course effectiveness, is to administer multimedia quizzes.  Your employees will appreciate the change of pace while you will have access to a powerful assessment tool that can provide live feedback as each learner answers questions.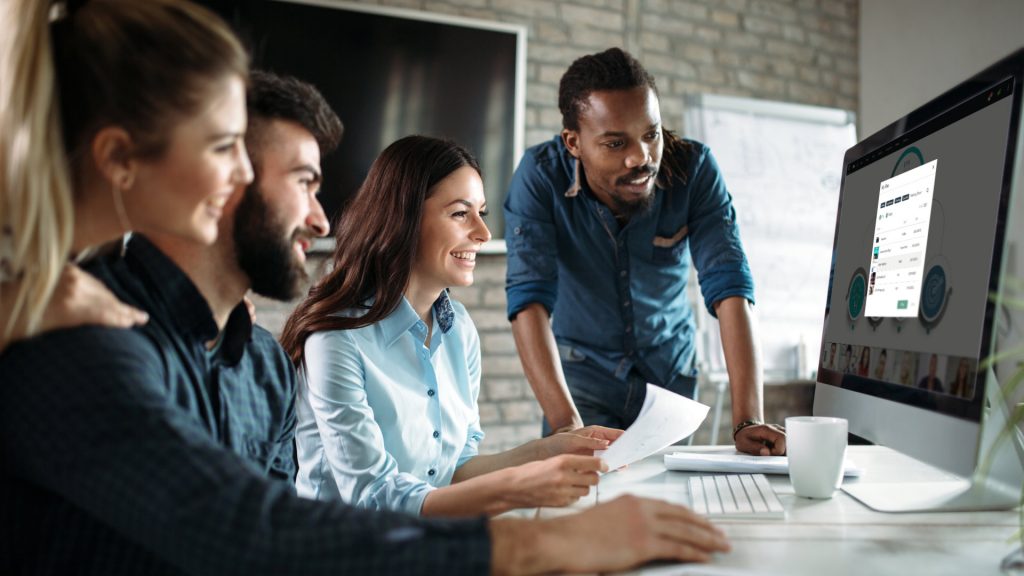 There will be times when you as the employer or lead instructor will be moderating a webinar, leading a discussion and being the main focus of the session. But there are other times when it may be best to have a group discussion, allowing teachers to see students front and center with their webcams.  In many of the better online virtual classroom platforms out there (wink wink Newrow 😜), the participants can all be on screen with their webcam arranged in a 'Brady bunch" style manner, allowing everyone the ability to see each other and be equal.
When it is time to highlight content, the teacher can minimize webcams to the bottom tray in order to highlight the content.  Later they might want to transition to learning mode by being front and center in presenter mode, allowing participants to drag the instructor's webcam box anywhere so as not to obstruct certain learning materials on the screen.  All of this allows for multiple experiences for the employee that will keep the lesson engaging and dynamic, which helps motivate employees to attend training sessions with a new vigor.
Deliver Training On The Go
Why take time out of a valuable work day to conduct a training session when you can deliver content for your employees to access anywhere and anytime from their mobile?  Videos, audio, images, text and presentations can be accessed in an on demand learning section, and consumed in bite-sized nuggets to ensure maximum retention.  
This educational concept, called micro-learning, specifically delivers smaller learning units to spare employees from feelings of being bogged down or overwhelmed by information overload.  Why be forced to motivate employees to attend training sessions when you can deliver resources to them gift wrapped in the most user friendly manner?  Our collective attention spans are getting shorter nowadays, so it's vital to adjust to the times and incorporate more palatable, concise learning styles into our practices.  
Sharing information with your employees in a digital way also opens them up to the possibility to create their own content and share information amongst their peers.  The online workplace can be become a medium for endless collaboration, sharing and growth.
Be An Enthusiastic, Relatable Leader
You must be interesting.  Full stop. If you are leading a session, you must bring a certain amount of enthusiasm or you will quickly lose your audience. If you come across as monotone and dull, the valuable information you need to share will not be received.  Put yourself in your audience's shoes and imagine what kind of energy and skills you would expect from a leader to stay engaged. Don't be afraid to add some humor to lighten the mood as well.
In addition to having the proper amount of energy, it is absolutely vital that you be believable or relatable, otherwise you will come across as a used car salesman and your message will fall on deaf ears.  Inspire them with the right message! Your goal is not to trick your employees into caring, but to tell a real story that you believe yourself.
Keeping your employees productive and up-to-date on the ins and out of your product can be a difficult task.  The same tools and style that worked in the past, might not do as good a job in 2019.  You have to evolve with the times and invest in your employees properly by creating a culture of learning in the workplace.  Sometimes they must naturally adjust to your codes and conduct, but in many situations it may save valuable time and money by adjusting to theirs.
By making your online workplace training more engaging and dynamic, you ensure an organization that is compliant to the codes and character of the company.  Also, you are facilitate an active, creative learning environment that keeps aiming to output a better product. Employees will feel more at ease in this healthy, progressive working environment, with productivity and performance reaching new heights.
Schedule Your Newrow Demo Today
Newrow Smart is the next-generation Virtual Classroom platform used by enterprises worldwide to engage their employees. Deliver e-Learning and training courses that keep participants focused and receive measurable data-driven insights for business improvement.