A webinar is a live presentation or video conference that is transmitted over the web. Today, managers and instructors are able to communicate ideas and conduct workshops for a large number of people remotely in real time over the internet.  A well produced webinar can communicate essential information more effectively and save time in the process by reaching large audiences at once.
 In a webinar, a participant is more of an active audience member than simply a passive listener.   It is all about interactivity. If something can simply be explained through words, then perhaps an email or basic telephone call would suffice. In many situations, whether it be a how-to tutorial where multiple people might have questions, an educational course or seminar, or a panel discussion where several members must provide their input, these basic mediums would not be enough. The information would seep through the cracks. A webinar is a vehicle that will deliver the full scope of your message and you'll be able to track how it is being received.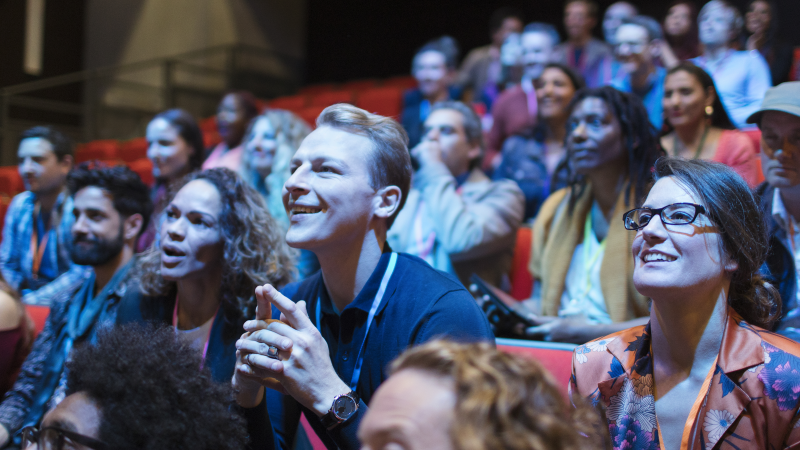 How many times in life have you been forced to sit through boring meetings or powerpoint presentations?  Get into the mind of your audience and try to create something more dynamic to keep people engaged then make a plan to communicate your message clearly.  For a certain concept to be conveyed, your webinar must be well-organized and be built following some basic guidelines. The script you construct will not be something you will read off of, but serve as a road map to keep your webinar concise and dynamic. To begin, you can follow these basic steps to create a webinar from scratch:
1. Have Something Interesting To Say
Choose a topic worthy of elaborating on. If you are still undecided if conducting a webinar is the next step for you – as opposed to let's say emailing a powerpoint presentation. Here are some use cases for webinars.
Medical Seminar


A doctor focusing on cardiovascular health was planning a final seminar for her students at the end of the semester before holiday break, a time of the year where many students have already left campus.  By choosing to do a webinar, the doctor was able to communicate these concepts to almost 100 students at once with ease. The content management system allowed her to organize her notes, run powerpoint presentations, and play videos all within a customizable playlist with each file merely a click away.




Language School Seminar
A language school can have greater access to localized instructors. Despite the physical distance, the instructor is able to replicate the intimacy of a live class with the use of interactive tools. They can play videos to highlight cultural elements, have access to a digital whiteboard and tools like screen share, as well as the ability to assign students to breakout rooms to encourage students to practice and communicate with peers. At the end of each session, a teacher can share their notes with students and even a recording of the entire lesson to be accessed later.


Sales & Marketing Seminar


In order to educate customers on a certain product, many companies offer interactive webinars, which also create a simpler way to reach out to a relatively large audience at once.  Utilizing PowerPoint presentations, videos, and graphic assets during a webinar can be crucial to ensure customers are aware that certain features exist and communicate how best to use them. Attending a webinar allows a customer to feel they are receiving more personal attention and makes them more willing to engage your product and services.
All you need to begin your webinar is a computer, webcam, access to a reliable internet connection, a webinar tool, and of course participants willing to give you their time.  Sounds easy enough, right?
To find the right online webinar software, you'll want to consider a platform that is easy to use and has the features you need to keep it interesting.
No downloads, no installations!


Remember, people are busy so besides having an interesting topic to share, enable your future participants to access your webinar as easily as possible. A

web-based platform

is best, as the process of downloading an external program can be time consuming and add unnecessary barriers to people interested in joining your session. Also, professionals joining your webinar may not be allowed to download a webinar software on their company computer.
Interactive features


Now, it's up to you to decide what level of participation your participants have in your webinar. Since you chose to do a webinar to create a more interactive experience on a subject matter important to you, be sure to utilize collaborative tools to fully engage your audience:

Content Management System


Videos are attention grabbing! They captivate an audience and pull them in. In a webinar, you can upload presentations, images, PDFs, and

videos

to spice up your presentation. Let's say you're a teacher and want to show a slide then quickly transition to a video. You can organize all of your course files in the CMS and have quick access to specific files by adding them to the

playlist

.

Breakout your students
Breakout rooms are a great way to encourage in class collaboration between your students or participants. With the breakout feature, you can split your participants into smaller groups so they can engage one another more intimately. Students or participants can be assigned to different rooms and be moved around by the instructor to collaborate or brainstorm with other students. Once inside the breakout room, participants can use a powerful set of collaborative tools to work together like the interactive whiteboard. Students can later summon the instructor if assistance is required and record their session to review later.
Live Quizzes


Quizzes are engaging and a great activity to keep your audience immersed in your presentation. You can build multimedia tests and quizzes in minutes then publish them in your live sessions to get real results in real time. You can also add files like videos and images to each question to enhance your quizzes. Lastly, and most importantly, you can track learner success and measure understanding by analyzing results as they come in.

Digital Whiteboard and Annotations


Encourage in class collaboration and engagement with a fully interactive digital whiteboard in your virtual classroom. Sketch out ideas during brainstorming sessions or write out equations for STEM courses.  After the webinar, you can save your entire whiteboard or individual slides as a PDF for your students.

Notes


Broadcast your notes for session participants to see your updates in real time.  That means your participants can see what you write as you write it. You can even give specific participants permissions to contribute to the notes as well to increase interactivity. Notes are perfect for capturing key points of your webinar.

Appearance Is Everything


Not only should the content you present be graphically interesting and professional, but so should the tool you use. Today's audience expects a full solution that not only works well, but looks good. You should be able to brand the webinar software solution with your logo to highlight your brand and you should be proud of how everything looks. You want to wow your audience the moment they click join.
Webinars are better than phone calls because you are able to present visual components. Not all visuals are created equally. Don't throw up too much text for your students or team to read. A clean, uncluttered visual is more effective. Less is more.  Slides are visual assets that contribute to your presentation. Keep some basic aesthetics in mind as you begin to put the pieces together.
4. Setup the Right Equipment and Space
Producing a webinar does not require you to have access to professional broadcast equipment or a studio. Here we highlight the basics to setup your webinar:
Computer

– I use a simple MacBook or PC laptop to give my webinars. I don't have a gaming or beast machine, just your run of the mill work laptop.
Webcam –

A built in webcam is fine, but I like using a USB webcam. An external USB webcam enables me to have more flexibility in terms of placement and positioning.
Headset  –

People are sensitive and are frustrated by poor audio. A basic headset will provide high fidelity audio because it places a microphone right next to your mouth. If you are using a built-in mic then it can have good audio quality, but your distance from the mic hurts the overall quality of your audio.
Reliable internet connection –

A reliable internet connection is important for ensuring a high quality experience. Make sure to test your internet connection from the place you will be hosting your webinar in beforehand.
Visually engaging/uncluttered background

–

You may not have a professional, TV studio background, but that's ok. Just make sure it is presentable and appropriate for the presentation. If you are a doctor, perhaps a suitable background would be your office or lab.  If you are a professor, a library background with books on the shelf will look interesting.


Camera position

– Set up your camera at an angle that frames you in a flattering manner.  Read up on the

rule of thirds

to optimize your video composition.
5. Choose the Right Date and Time
One of the most important questions to ask yourself is if you build it, will they come? Are you aware of who your intended audience is and what their time limitations are?  Did you schedule the webinar when most people are away on lunch break or at a more appropriate time of the day for them to attend? Did you keep in mind that all of your participants may not be from the same location? A time that might work well for someone in the United States might not work as well for someone in China. The goal is to set a time that maximizes the amount of participants who can attend.
If you want to know the easiest way to invite your audience and get them to attend your webinar, you must first know your audience. Are your potential attendees strangers or people you already know? Defining your target audience will help you decide which of these options is most beneficial.
Distributed Email Lists – Construct a focused, concise email illustrating the 5 W's: "Who are you?", "What are you presenting ?", "Why is your webinar worthy of their time?",  "When is the webinar?", and "Where or how can they access the webinar?".


Social Media Outreach

– Utilize your social networks to

maximize your reach. Twitter, Facebook, Instagram, and LinkedIn are great tools to reach a large audience of potential webinar attendees.


Paid or Organic

– Is sharing information on social media enough? If you're looking to build your brand and gain ROI, then you should consider paid marketing campaigns with Google Adwords or sponsored posts on LinkedIn and Facebook.
People are investing their valuable time to join your webinar. Show them you are personally invested in delivering them a high quality experience by knowing your presentation through and through. No one wants to listen to a presenter stumbling through their webinar or fumbling around the computer to find learning materials. If you are polished and your presentation is organized, it shows you care about your audience's time.  They will be more engaged and, most importantly, a well rehearsed webinar will mean you'll have an audience ready to come back for more.
Now that all the pieces are in place, you've done all the planning, you've invited your participants, and they responded that they would attend, follow up!  People are busy and sometimes forgetful, so sending a reminder email a day or 2 before and the day of never hurts. It will go a long way in ensuring that more people will attend. After the webinar, you've gained an attentive audience. Send them a link to the webinar recording or valuable assets that you presented in the webinar to keep you relevant and at the forefront of their mind.
Time To Create Your Webinar
Everyone has their own secrets on how to create a webinar that most effectively communicates their product or vision. Everyone has something interesting to say. By going through this basic list you are well on your way to delivering a high quality webinar. Good luck!
Try Newrow Smart for free today!
Newrow Smart is the next generation Virtual Classroom platform used by enterprises, schools and facilitators worldwide to engage their employees, students, and audiences. Deliver training anywhere, at a fraction of the cost, that both engages and delights your participants, while improving business results.