One of the many benefits of elearning is the incredible amount of data that can be gleaned through learning analytics. In their most basic function, learning analytics consists of data collected from learner interaction and engagement in their online learning activities. Think about attendance and participation within live virtual classrooms, completion records in an on-demand course, or even formative assessment like quiz and exam scores.
Today, learning analytics are also being used to improve instructor performance as well as the quality of instructional content delivered to learners. Learning analytics offers insights into everything an organization is doing in their elearning space. They help teachers and schools as well as training facilitators and companies make decisions on how to make learning more effective for their students and learners. Learning analytics enables data driven instruction.
Learning Analytics And Data Driven Instruction
Data Driven Instruction is an approach by educators that utilizes data and information from learning analytics to provide insights on teaching and learning. Using data to understand how to make learning more effective is not an entirely new concept. Educators have long utilized data from test scores, attendance and participation, and myriad other quantitative and qualitative data sets to assess students and themselves in order to improve student outcomes.
Ultimately, the goal of educators is to improve student performance. Data acquisition and, more importantly, reflecting on learning analytics provides opportunities to take action as needed to help learners reach defined learning goals. Data from the classroom can be used to push learners forward and motivate them to accomplish their goals. It enables educators to be more responsive to learner needs and empowers learners to take an ownership stake in their learning. 
In the traditional classroom, data acquisition is typically a time consuming and manual endeavor. Educators input various data points manually and draw conclusions much later. This process requires a good deal of effort and delays delivery of results. Educational technology automates data collection through learning analytics and streamlines using that data to make real time decisions.
Role of Educational Technology and Classroom Data
Accurate, relevant, and timely data is one of the key value ads that comes with adopting educational technology. Educational technology can help teachers collect and log data in an organized way then deliver said data in learning analytics dashboards with actionable insights. This data can mirror the data collected in traditional methods such as tests and quizzes that provides direct evidence of learner achievement as well as new data points that can be collected to improve learner performance.
By automating data tracking and providing easy to understand reports and insights, education technology affords educators greater opportunities to take actions that improve learner outcomes. Aggregated data reports provides schools and L&D departments within companies the ability to set SMART goals that align learning programs to efficiently meet established performance standards. Data also provides opportunities for learners to take more control of their learning, to understand where they are and where they are expected to be.
Learning analytics helps schools answer questions on how to analyze student performance and helps educators learn how to make learning effective for their cohort of learners.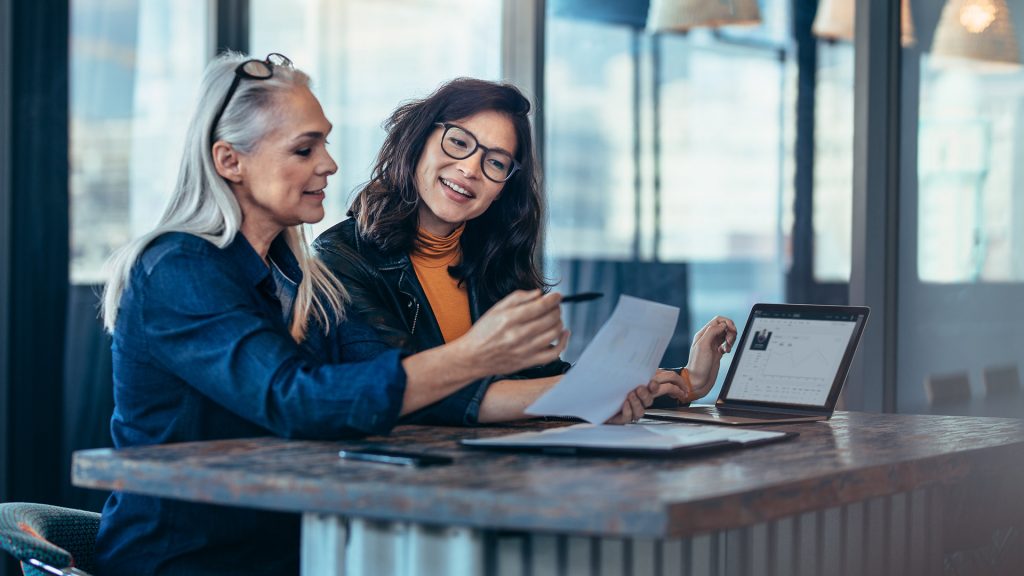 How Learning Analytics Improves Your Online Teaching
So far we really went a more theoretical route, so below we bring this back down to earth with some reasons on how learning analytics improves your online teaching.
Predicts Learner Outcomes
Learning is a process. Not only do learning analytics help us track the progress of learners as they progress through their learning activities, but they also help educators predict the success of learners. Educators are able to analyze learners compared to historic data as well as compared to other learners and understand if it is necessary to intervene. Educators can offer supplemental content such as additional videos or reading material or even offer additional support to help learners successfully complete their course. Or they can pair learners in groups to best work together in breakout sessions. In the end, the goal is to help learners succeed, not wait for them to fail. The ability for learning analytics to provide some view of potential outcomes helps educators take the necessary corrective actions.
Increases Teacher/Trainer Effectiveness & Lesson Plans
It's not you, it's me. As educators, we must always self assess. Typically, when learners complete an online learning course, we ask for feedback in the form of feedback surveys. This feedback is super valuable, but it is subjective. Subjective feedback can be difficult to turn into action. Learning analytics provides objective feedback on the effectiveness of our training methods. By digging into the data, we may find certain areas where we can improve. Perhaps we skim over a certain topic that in the end needs more attention or delved too deeply into another topic. Learning analytics helps us understand on how to make learning more effective. We also get the benefit of real time data. Instead of waiting for subjective, summative feedback surveys, we can learn on how to improve as the course proceeds which is awesome!
Improves eLearning Content and Courses
Just like we use data to analyze learner and educator performance, we can use learning analytics to improve our eLearning content and courses. If we deliver video courses that look amazing and we see that a majority of learners are missing the key concepts, then it's a good chance that we need to revisit the material. Sometimes the way certain content is presented can distract from its overall goal. On the opposite side, we may find that certain supplemental content delivered to struggling learners created really great outcomes. We can then make sure to make that content part of the course so that all learners can benefit from it. Learning analytics enables us to really boil down our content to understand their effectiveness. If they're not effective, then iterate. If they are effective, then make sure the content is exposed to as many learners as possible.
Tailored Learner Experience
Every learner is an individual. They have unique perspectives and personal experiences that give them different sets of skills. Learning analytics can assist us in delivering personalized learning experiences to different types of learners. Instead of forcing all learners through a one-size fits all model, we can deliver learning that works to the strengths of each learner. We may see that certain cohorts of learners just do better with quick nuggets of information delivered as microlearning activities or perhaps we see that some learners focus better when learning on the go through mobile learning. We know that some learners prefer real time instruction while others prefer to learn on their own time, at their own pace. The point is that learning analytics helps us understand what our learners need and enables companies to deliver personalized learning experiences that deliver better learner outcomes.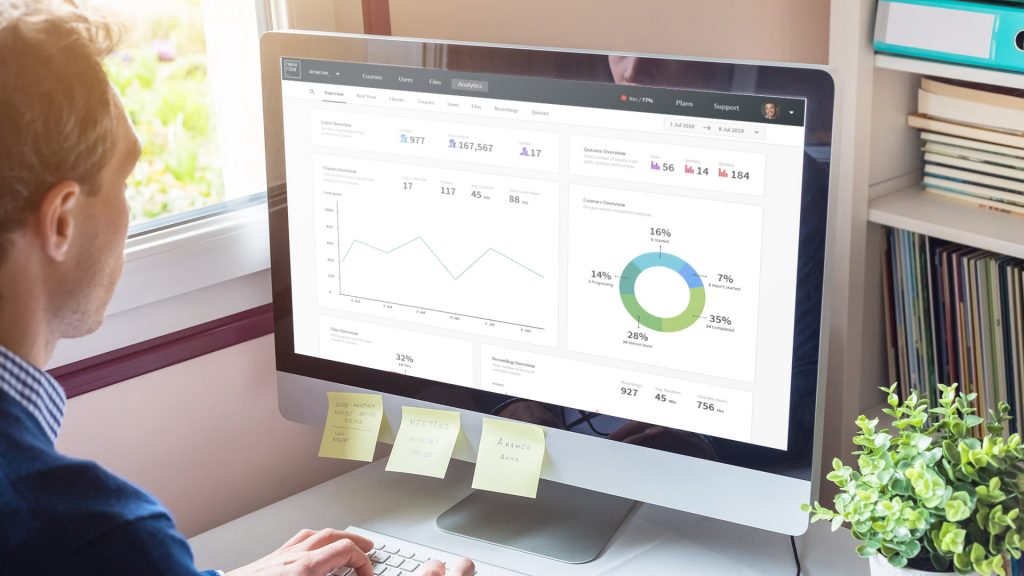 How Newrow Approaches Data Driven Instruction
At Newrow, our goal is to help educators teach their students more effectively. We believe that though there are many benefits to on-demand, self paced instruction, that there is no replacement for putting the teacher at the center of the classroom to lead students to better learning outcomes. 
Newrow Smart is an easy-to-use virtual classroom platform purpose built for teaching online. The virtual classroom enables teachers to connect face-to-face with students in real time wherever they may be as if they were in the same room. The virtual classroom not only replicates the physical classroom, but in many ways it improves upon it. By adding interactive features purpose built for online learning, Newrow Smart makes learning engaging and impactful. By automatically collecting and making data readable and actionable, Newrow Smart is committed to providing the information necessary to improve student performance.
Here are 3 tools Newrow provides to optimize your online instruction:
Sessions Stats provides data on every class that takes place in a virtual campus. Administrators are able to get a bird's eye view of the virtual classes taking place in the virtual campus from the classes that took place, total class time, and the number of unique students. Teachers and administrators can then dig into class data as attendance to each session is tracked: who joined, when they joined, when they left, the total duration they remained, their focus level throughout the class, and their activity in the class. These data points help teachers and administrators focus their efforts on helping students accomplish their learning goals. They can be reviewed as summative reports on quarterly student activity as well as reviewed each day to ensure that learning objectives are met along their way to accomplishing their learning goals.
Browser focus reports provides real time information on the focus of specific students. If a student looks away to another window, then teachers see indicators on the student's webcam and corresponding to their name in the participant list. These indicators are only seen by the teacher and can prompt the teacher to take immediate, real time action to bring the student back into class. After class, summative reports of overall student focus are provided in attendance reports.
Quizzes are classic examples of quantitative assessment. Quizzes can be delivered before class or at the beginning of class to benchmark student understanding before you teach them. You can use quizzes to reinforce chapters as you complete teaching key concepts throughout the class. Quizzes are automatically graded and provide great insights from aggregated class scores to specific student scores. After giving a quiz, you are able to adjust your class agenda in real time to meet the demands of your students.
Aggregated quiz scores throughout many classes over the course of years provides invaluable predictive indicators on student outcomes. They provide standards to benchmark mastery and enable teachers and admins to set clear learning goals and learning objectives. This data can also be used to understand whether or not specific quizzes are effective in measuring mastery. If large cohorts of students did very well on a quiz but did not perform well on a summative unit test, then quality scores can be automatically derived on the value of that quiz.
If you made it this far, then we've got a FREE download for you 🙂 Also, thank you! This is just the tip of the iceberg of learning analytics. There is a sea of data available on how to make learning more effective. The challenge today is not in collecting tons of data. Instead the challenge for us is to transform seemingly infinite data into information, knowledge, and actions. We need to collect relevant data, not all data, reflect on that data, and transform disparate data points into concrete actions that improve processes and understanding. To dive in further get the FREE whitepaper below.
Newrow is a global leader in online learning and remote tutoring. Want to know what we've learned? Get our whitepaper:
Insights from Interaction – The Era of Proactive Data-Driven Instruction.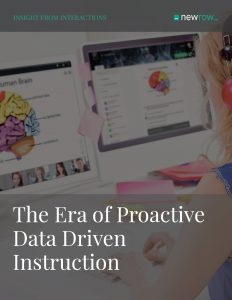 Try Newrow Smart for free today!
Newrow Smart is the next generation Virtual Classroom platform used by enterprises, schools and facilitators worldwide to engage their employees, students, and audiences. Deliver training anywhere, at a fraction of the cost, that both engages and delights your participants, while improving business results.